New Arrivals Section, will have Venetian Beads, and Murano Glass Items,
that we have recently added to our website.
*****Scroll Below For Prices and Descriptions*****
N-80 Twisted gold leaf, "Foglia Oro", Venetian bead Necklace. These gorgeous beads are made with an opalescent looking Murano glass, which the Italians call alabaster glass, and then covered with 24 Karat gold foil. The necklace is 18 inches long, extending to 21 inches with a gold, adjustable link chain; is handknotted, and has gold bead caps and decorative clasp. Available in two colors: Rubino Oro, (Ruby Gold) , which over alabaster glass, looks Light Coral;
or Celeste Alabastro Oro, which looks light aqua. $88.00
Earrings to Match, are shown here, with decorative gold "fillagree" posts. Also available in wires or clips. $30.00


N-81 Gold and Silver 10x10mm Cubes. This Murano glass necklace of handmade cubes is designed in a three color combination: crystal clear glass over 24 karat gold foil, gray glass over gold, (which looks olive), and gray over silver foil. Handknotted with black thread for an even more dramatic effect; 16 1/2 to 19 inches, (42 - 48cm), with chain. A truly elegant necklace.
$82.00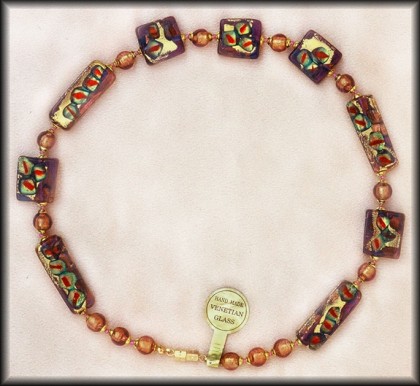 N-83 "Cat's-Eye" Beaded Necklace. This handmade, Venetian glass necklace is definitely eye-appealing with amethyst colored glass beads. The square beads are 3/4 inches, the rectangles are 1 1/4 inches, and are uniquely accented with "cat's eyes" of gold foil, green and red. The round beads are 8mm light amethyst colored glass over 24 karat gold foil. Handknotted to 19 1/2 inches.
$65.00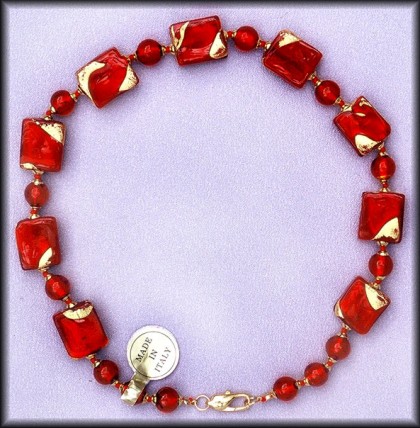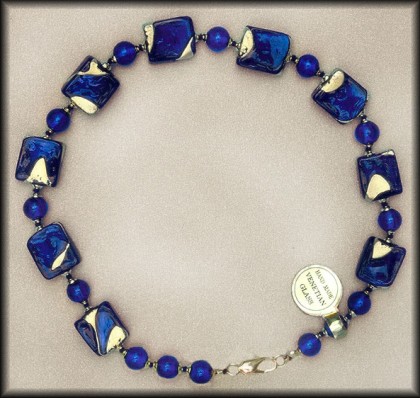 N-84 "Exposed Gold" Large, Square Necklace. This Murano glass necklace contains square beads measuring 3/4 inch long, in either, red, or cobalt blue glass, melted in an artistic manner, on top of 24 karat gold foil; letting the gold foil show in some areas. Accented with 10mm round, gold foil beads. Handknotted, approximately 18 inches. Choice of Colors: Red-Red, or Cobalt Blue. $59.00



N-85. Oval "Exposed Gold" Bead Necklace. This Venetian bead necklace has 3 large "Exposed Gold" ovals, approximately 1 1/4 inches long x 1/2 inch wide, 4 solid black baroque ovals, and 4 round 24 karat gold foil beads. Length: 22 inches, (55cm). Choice of Colors: Black, or Aqua/Teal. $49.00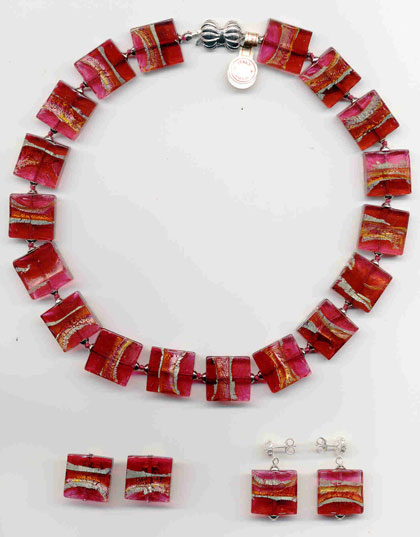 N-86. "Aurora" Square, Murano Glass, Bead Necklaces. Each handmade, 20mm, (3/4 inch) square has three tones of color with gold foil stripes. Handknotted to 19 inches. Choice of colors: Aqua with Gold Foil, or Raspberry Pink with White Gold Foil. $127.00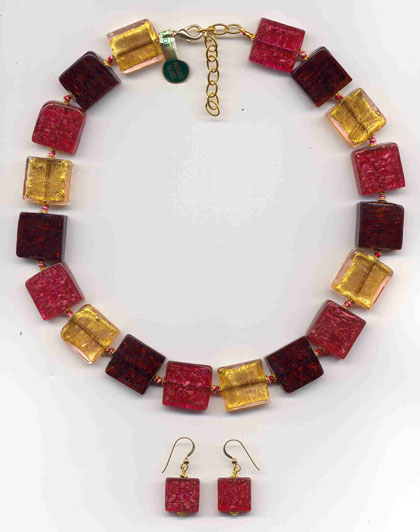 a
b
N-87. Fashionable, Three Colored Square, Murano Glass Necklaces. Each Venetian glass bead is 20mm, or 3/4 inch. The necklace is handknotted with adjustable chain; length 18 1/2 to 21 1/2 inches. Two choices and styles of necklaces:
a. Squares in Raspberry Pink with Aventurina, Cranberry Red with Aventurina, and Light Pink over 24kt. Gold Foil; or
b. Squares in Periwinkle Blue over Gold Foil, Charcoal over Gold Foil (which looks "olive"), and Amethyst over Gold Foil (which looks "bronze").
Your choice for $95.00



N-88 Striped beads with abstract pieces of gold foil on white alabaster, Murano glass. Each striped oval bead is handmade of Murano glass, approximately 1 to 1 1/4 inches long; each striped round bead is 14mm; both are accented with 24 karat gold foil. Length of necklaces, approximately 21 inches. (Matching Earrings available when you click on basket.) Available Necklace colors: Red and Black Stripe, or Cobalt Blue and Green Stripes.
Price: $49.50.




N-89 Venetian Glass Cubes: Red, Olive, Amethyst. This Venetian glass necklace is comprised of cubes approximately 12 x 12mm, with 24 karat gold foil inside each lampworked bead. The combination colors are: Amethyst, Red, and Gray (which looks Olive Green over gold foil); a brilliant combination of colors separated by gold seed beads and bead caps; and handmade to 19 inches in length. A simple idea, but a stunning effect.
$59.00



N-90. Aventurina, 8mm round, Venetian bead necklaces. These handmade, Murano glass beads have inclusions of Aventurina, or small pieces of copper. Handknotted with bead caps on each bead. Choice of colors: Multicolor, Amber, Aqua, Red, Blue, White, or Black. Available in two lengths: 24 inches for $33.00, 17 inches for $24.50.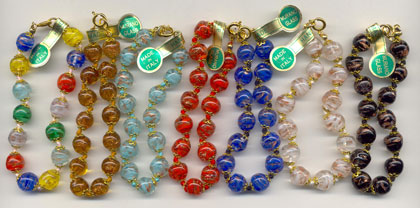 B-90. Aventurina, 8mm round, Venetian bead bracelets. Each Murano glass bead is handmade with pieces of copper filings inside, known as Aventurina. Matches necklaces, N-90. Approximately 7 1/2 to 8 inches. $14.00



N-91. Murano Glass, "Klimt" Style, Oval and Round Bead Necklace. This Murano glass necklace is named in honor of the artist, Gustav Klimt. Each Venetian bead oval is approximately 1 1/2 inches long x 1/2 inch wide, and the round center bead is 16mm or 3/4 inch; with black glass, 24 karat gold foil, and millefiori accents. 28 inches long. $69.00


© 2016 Alexander-Lee. All rights reserved.